Onto the Atlantic coast and a beach of our own.
After supplies were gathered at a big supermarket on the new ring road in Guelmin we headed for Fort Bou Jerif.
I was sure this would be tarmac and it was for a while until the ravages of this years rainwater washed all memories of a manmade road away, again Result.
We headed out of the river bed onto the moorland tops heading for the sea to find the memorial to the war fought here in 1944 but darkness was better than our speed and we ended up slowly tracking through mud and soft sand to the waypoint, what a surprise it was when in the middle of nowhere next to the memorial was an amazing Fort type campsite , beautifully done as an old fort, we used the facilities and left the next day for the beech which was only 10km westward.
To our surprise over the next hill was the original legionnaire fort bou jerif and you could see all the old military buildings it was a great Urb-ex day.
The only picture you can see is the pit from the vehicle repair bay, the rest you have to come and see for yourself.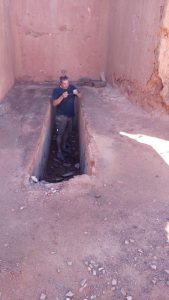 TIP: unless you need a shower then stay at the fort by the wadi, a much more genuine camping location.
The piste on from here was bad and we had already seen a large 4×4 camper turn around and take the 150km of tarmac round trip to avoid it. Not us, this was fun time, the TARDIS took it in its stride and we where soon gliding along the coast road looking for a place to stay the night
The new Garmin 276Cx GPS really came in to its own and up popped a beach that looked promising.
Here it is.
HEALTH WARNING: Gratuitous , 'look what we did that you didn't do' or  'look were we are and you weren't'   photos that may cause severe depression from people sat in the cold cold dark UK.
Two days on our own with 5km of beach in each direction, just the fisherman out to sea for company. but we ran out of wine, not a problem for 50% of the community but for the other 50% it was a big problem!!
Share your joy of knowledge with the world..