Welcome all back to my blog, well many of you will have seen on Facebook and my snapchat that today was my first race of the 2017 season. We had a very early start 5:30am to be precise, a long journey but totally worth it.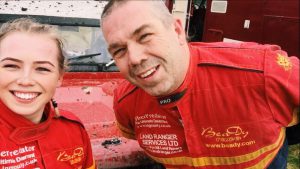 We have a nice clean run down to the venue which made the journey less boring, when we arrived I set up our motorhome for the day ahead then I quickly disappeared to focus on walking the course. I saw a few areas on the course that I thought would cause a bit of problems for myself but I was impressed with how well the car just drove over it. We were very lucky to have no real big problems with the car which meant we were able to do our laps back to back with meant we were finished by lunch time. The course was testing but I felt like I improved each lap which is what we are aiming for. Thankfully all the winter modifications to the car payed off which means I have successfully added another comp safari finish to my list of achievements as a new driver.
The only real issue we had on the course was a little collision with a tree on the second to last lap, only a small amount of body damage was done but that is easily fixable. Sadly we are unsure on the real damage to the car as it didn't feel perfect after ( we believe we have done a CV) but with washing the car tonight and tomorrow morning we will be able to diagnose the problem and fix it straight away. Hopefully we won't have to do much changing to the calendar but we will only tell in time.
Huge thanks to P&D for a wonderful day.
---
(37)