We'll I'm finally home and slowly starting to recovery from what has been an incredible 5 days of camping and racing in North Wales. Round 5 of the Staffs and Shrops CSIC Championship was held by North Wales Land Rover Club at Elwy Valley on bank holiday Monday.
However, before the comp safari on Monday I thought I'd get a little bit more practice and enter the RTV on Sunday in a friends Series 1. A winning car, an unexperienced driver and a tough crowd of family and friends, this left no space for mistakes. However, this is me and the mistakes were very hard to hide. My very first RTV and I'd like to think some of the scores weren't too shabby, I'm not sure where I finished in class / overall as for me the trial was only about developing my driving and not about winning. ( I'm sure every loser says that) Weirdly I'm really looking forward to doing some more RTV's and CCV's next year, although I've got to remember points don't make prizes and if I hit another 9 gate in a RTV I best look for somewhere new to live.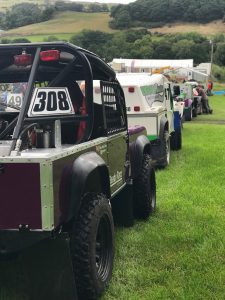 So Monday morning came and I turned into a bag of nerves. The first lap I was driving blind and the course chucked a few "oh  S**T" moments at me, nothing like nearly rolling down a gravel track to get the heart pumping in the morning. How it didn't roll I'll never know but someone was watching out for me at that moment, sadly that person must of got distracted as the next lap I had a small collision with a gate post, You win some you lose some. ( Gate post 1 – Wrap 0) I finally built up the courage to use "1,2,3" , it only took 2 years… so maybe in another 2 years I might finally use my fiddle breaks.
I used this event to development myself and test a few new things out and let me tell you now, I'm still sat trying to destress myself 2 days later. This weekend I had a new navigator due to Milly being unable to attend the event, sadly she'll be missing Round 6 as well which means Tom and I have a lot to work on before getting back in the car together.
I want to say a massive thank you to my team (BeaDyrace), my sponsors (Tyres Direct, Muk Junkie, NWP) for their support, to the NWLRC for setting out/ running an incredible event, the marshals for giving up their time so we can race, the time keepers in the van and everyone else that made the weekend so perfect, I can't wait to come back next year.
So for me my next stop is Dubai, I'll be navigating in the Baja Series on Friday 21st September for Mark Powell from Saluki Motorsport. I'll then be on the next flight home to race the following day at the Stone Enduro, which is Round 6 of our championship. It doesn't stop there, as I'm then off to Wales Rally GB (WRC Round) as a FIA Scrutineer. I promise I'll attend University at some point this year.
See you all at the Enduro.
Chloe x
(107)