Well from the feedback I got while I was in Sweden at the Midnight Sun Rally I gather a lot of you read my contributing blog on their Facebook page, so there isn't any need for me to explain what happened out there, but if you missed it all you can find it on my Facebook page.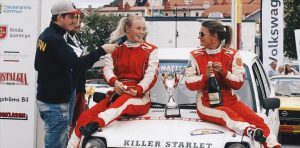 So anyway, the week after being in Sweden my team and I headed down to the Welsh Hill Rally at Walters Arena. The week in Sweden really helped prepared me for the kind of gravel tracks I was going to drive for the first time in South Wales. After a long 5 hours of driving we finally had touchdown at the service park,  I quickly set up camp and waited for the rest of the team to arrive later on that night.
Before the event had even started we had a few minor hiccups, miss reading the regulations cost me putting my competition numbers in the wrong place (We've all been here before), no major drama to fix thanks to a close friend helping me out.
Day 1: So Friday morning, we sign on and the car passes scrutineering first time and goes straight into parc ferme. Of course there is nothing else to do now but wait so I decided to catch up on my sleep, and of course so did BeaDy. Fast forward to 5:30pm and we're getting ready to start SS1, my nerves had kicked in. We went off the start line and the first thing I thought was "Oh my god how slippy is this ground" followed by "that was a close one" minus the swearing and screaming from Milly in the passenger seat. SS1 and SS2 went well, I learned to feel the ground a bit more and driving blind was more exciting than I thought, my team fixed a kill switch problem which lost me 30 seconds or so on the first run.
Day 2: The stages went well for us, I had a few near misses but luckily caught them in time and got faster and faster as the day went on. On the last stage of the day I questioned why I was drifting more around the corners and why the car felt lighter, later I realised I had lost my spare wheel, tail gate and BeaDy's brand new tow rope on the stage before hahaha. So for the next 4 hours I panicked wondering how damaged my tail gate would be and if I'd ever see my spare wheel and BeaDy's rope again. A massive THANK YOU to the people that found it all on stage. It made me sleep well that night knowing my wrap wasn't damaged. (It's the little things that matter in life)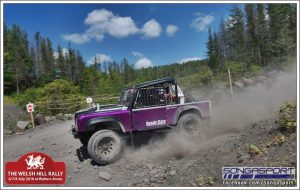 Day 3: Another day without any issues for us, the car was holding together really well and we managed to finish the rally off without any body or mechanical damage. To top off finishing my very first Hill Rally, my mother and I finished 6th in class, 22nd overall and the highest placed woman driver. (Well done to Victoria and Becca, It was a good fight until the end) Another event finish added to my record and I couldn't be happier.
Of course I was gutted about some of the stages being cancelled etc but Jon and his team did an amazing job of putting on the Hill rally and made the event feel extremely friendly and well organised. So Thank you to all the people that made the event happen, the marshals that spent the long hours out in the sun so we could race, the rescue team , the event organisers , of course my pit team and parents and everyone else involved.
Our next event is the 4th August at Green Hall Farm for Round 4 of the Staffs and Shrops Championship, I'll see you all there.
(78)