Always be careful when having a tidy up,
After a Scottish Hillrally sticker was posted on Facebook it brought back memories,
and then I started have a merciless tidy out and found this….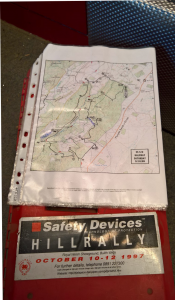 21 years ago, and this year Chloe and Milly are taking the plunge and doing the 2018 Welsh hillrally in 88″ ALRC spec car.
I bet the course doesn't go through the forest like back in 1999, I still have the maps and the one in the picture is through the Halfway forest, a really tough stage and in October in Wales, you know it was wet.
Share your joy of knowledge with the world..