Welcome back guys, I hope you all have had a wonderful bank holiday and enjoyed our entire summers weather in one weekend. 
So Staffordshire and Shropshire LRC kicked off their season with an incredible 4 day event, which of course held round 1 of the CSIC Championship. Over the weekend I kept busy by helping set out the Cross Country Vehicle Trial (CCV) on the Friday morning and marshaling it on the Sunday, a whole-new kettle of fish for me so no better way to learn than to assist the best. On Saturday Milly and I took a 'quick jog' ( I wish more like 2 hours to walk 3 miles…) around the comp course.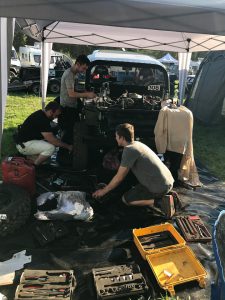 The car passed scrutineering with a breeze but sadly this was where our problems began. Following our steering issue at our previous event we changed a few components which we believed had fixed the issue,  however on the drive back to camp I realised that the steering issue had come back and started to jeopardise us starting in the morning.  I managed to persuade the team to spend their Sunday evening fixing an old land rover, instead of drinking beer around the fire. A steering box change, a brand new steering damper kindly donated by Tom Gray from his 90 and a few other little jobs, the guys managed to fix my steering issue enough to allow me to race the following day. 
I have to say a massive thank you to the BeaDyrace team, without the brilliant people I have behind me giving me the support I wouldn't be able to race. (Picture left: Mat, Zac, Chris and Tom working on the car)
RACE DAY: The nerves started to kick in, I had butterfly's flying around in the dozen. My navigator had already started shouting at me, it was going to be a tough day! We started off with a slow / steady lap so I could find my feet on the course, once I did it was all fire ahead. They called dinner just after lap 3 which I was sitting in around 15th place in class, After lunch they cut the laps down to 6 instead of 8. This meant I needed to work even harder to get in reach of my goal place. 
The course was demanding and technical along with the weather as lovely as it was, it put a large amount of strain on components and drivers. We gained a few rattles and bangs throughout the event but nothing major, I set myself a goal of top 10 in class after seeing the strong field of drivers and with a hard push I achieved it.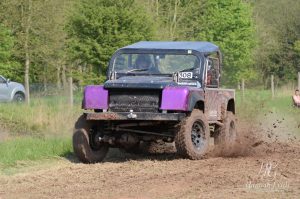 We finished Baden Hall Round 1 with 9th place in class out of 20 and 27th Overall out of 53 starters.
So for us that's it, our next planned event is the Welsh Hill Rally on the 6th to 8th July. I'll be joining my sister at Babell Round 2 as a marshal along with being Clark of Course (CoC) of the Martin Gallis Memorial COMP (Round 3- Stone). 
Don't forget this Sunday you can catch me, Zoe and BeaDy on Sky One's new tv show Carnage at 8pm, fellow S&S's may even recognise the vehicle we used and who It previously belonged to.
(153)