Firstly I want to say a massive congratulations to Ahmed El Shamy and Karim El Hamawy for coming 3rd in Class T1.2, So if you can't already guess we had a reasonable successful first event with the Desert Warrior 3.
We started off the week with some small pre event jobs like all the other teams preparing for the Baja, finishing off with my favourite part of preparing the car. (Waxing, Back to blacking EVERYTHING and most importantly Tyre Shine) After this everything went pretty fast, we took the car to the service park, the drivers did the administration checks etc. and before we realised we were on the start line cheering the guys on.
The first day ran relatively smoothly with a few baby errors for the new car, nothing dramatic and the guys had a good shakedown in the car. The 2 hour service followed which went within a blink of an eye, I'm sure other teams felt the same. The second day came around and the shakedown on the brand new DW3 continued with the guys getting even more practice in the dunes.
After SS2 the car was taken into park ferme while we all prepared for the ceremonial prize giving, at which we were all delighted on the team result.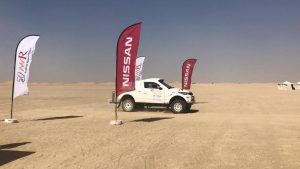 It was a pleasure to meet and work with some amazing people during the event, so for now I want to say thank you all for reading and we will see some of you next week at the Abu Dhabi Desert Challenge.
(70)