Welcome back everyone,
While I've been working away at University a few things have happened that I want to share with you all, sadly these will come in separate blog posts throughout the following week (s) as I simply can not fit what I have to say into one post nor do I get the time to sit down and write while doing assignments.
Anyway…
After doing a photoshoot in early May this year for Tottie Clothing I found out the other week one of the photos that were taken on this day has been used on their website for selling the product that I was wearing. I really loved the final outcome of the photos from this photoshoot and I'm even more pleased to see that the image has been used to market the product online.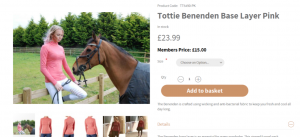 Still to this day the Tottie base layer is my favourite piece of clothing I have in my wardrobe, whether it's to do with motorsport or equine I always make sure I have this on me to keep me warm. Below is the link incase anyone wants to have a look at their products.
https://harryhall.com/pink-benenden-base-layer
Hope everyone is doing well and Thank you for reading.
Chloe Anna Jones.
(100)